Last updated on February 14, 2021
This article contains all you need to know about University of Ilorin's Virtual learning programme using Microsoft Teams App. You will get detailed information about your school email, how to login to your school email, how to set up your Microsoft Teams account, how to get your verification code, how to get signed into Microsoft Teams App on your mobile device and on a PC, and general basic and elaborate know-hows of the Microsoft Teams apps

. We advise you read to the end even if you already have your virtual class account already set-up. You can also make use of the Table of Contents below to skip to your needed section.
Account Set-Up
Setting up your Unilorin virtual class learning account will be divided into 3 stages so you can understand and follow the procedure accurately. At the completion of these 3 stages, you will have your account fully set-up.
Stage 1: Getting and Signing into your Unilorin Student Email.
First of all (go down low

) you need to get your student Email address by following these simple steps.
Write down or type your matric number e.g 20/33BC049 ( it doesn't matter if they are Capital letters or small letters)
Replace the forward slash ( / ) in your matric number with an Hyphen ( – ) i.e something like 20-33BC049
Add @students.unilorin.edu.ng to the end of your matriculation Number, You should have something like 20-33BC049@students.unilorin.edu.ng
Please be careful, make sure you type these completely, don't miss a sign or a letter.
Now you need to Login/ sign into your Unilorin student email account, follow this easy steps
Click on this link or open the Gmail app on your phone, click on the circle logo on the top right corner and click on add account.
Type in your just generated school email, i will advice you copy and paste to avoid error. Then click sign in.
You will be requested for your password. Since this is a universal explaination for all levels we will displaying the password of each level below . Once you type in your password click sign in.
Click on yes to accept to the End User License Agreement (EULA)
Your Phone number could be requested for, type it in and expect a verification code, allow autofill or type in the verification code and your done.
Passwords
If your matric number starts with 19/ then your password is stdunilorin$20
If your matric number starts with 18/ then your password is stdunilorin$19
If your matric number starts with 17/ then your password is stdunilorin$18
If your matric number starts with 16/ then your password is stdunilorin$17
If your matric number starts with 15/ then your password is stdunilorin$16
Stage 2: Signing up for Microsoft Teams
Click this link
Click on sign up for free
Type in or preferably copy and paste your school email into the input box and click Next
It will direct you to an office 365 Education page,where you will have to retype the same school email in step 3 , click on Sign me up
It could then ask if you are are student or a teacher, truthfully click I am a student
Your mobile number will be requested for, change the country code not Nigeria (+234) before typing your phone number,Click Text me to continue
A verification code will be sent to your number, type it in and click verify.
You will then be directed to a Details form, fill in your first name (your normal name) and your last name (surname) only.
Type in a strong password,it must contain numbers, alphabets in upper and lower case and sign.
A verification code will be sent to your Unilorin student email, input the verification code into the space provided as fast as u can because it expires quickly for some users.
Crosscheck the region selected, it should read Nigeria,
Proceed to clicking the un-ticked box that says I would like…
Finally click finish. You are done, done with stage 2 now it is time for stage 3
Stage 3: Setting Up Microsoft teams Mobile App
A very much comfortable and economic way to receive lectures through the Microsoft Teams App is by using your mobile device, as it is easier to use and carry around and as well more economical with your data subscription. To set up Microsoft Teams app on your Phone follow this simple steps.
Click this link, but make sure it opens with playstore, or simply open playstore on your device and search Microsoft Teams
Click Install
Once the app is done installing, click open
It will present to you a simple welcome screen, Then type in your Unilorin student email into the centred input space provided and click sign in
Type in your password as requested, that is the password you typed while registering for that office 365, click sign in. It will then display a series of the app features page.
Click the right pointed arrow and you are good to go.
How to Download Microsoft Teams app On PC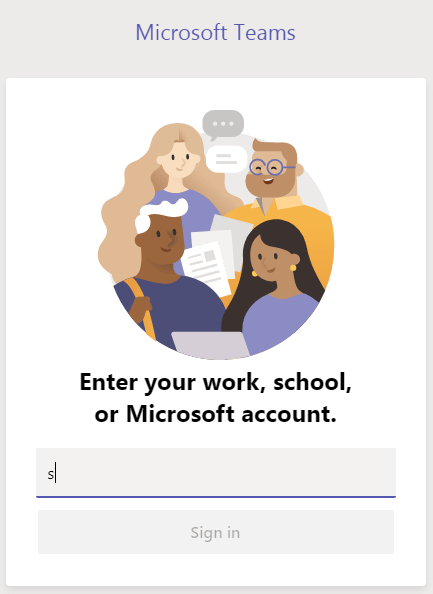 How to Download Microsoft Teams app On PC
Total Time: 1 minute
Click on these link , to redirect to download page
Click on Download teams
Click on the Downloaded setup file (Team.exe) to open, it will automatically start installing
Login with your pre-registered details or click on "not on teams yet" to sign up
---
How Much Data Subscription You will need
Microsoft video conferencing application is yet another famous app for video conferencing. The app is touted to give best audio, video and content sharing experience regardless of the network conditions. The company claims it brings conservative bandwidth utilization and can deliver HD video quality under 1.2Mbps. So, here how much it consumes data for one hour of video calling:

225MB of data Peer-to-peer quality video calling 360p at 30fps

540MB of data for peer-to-peer HD quality video calling with a resolution of HD 720p at 30fps

675MB of data for peer-to-peer HD quality video calling with a resolution of HD 1080p at 30fps

225MB of data for Group Video calling

450MB of data for HD Group video calling 540p videos on 1080p screen

This is one of the reasons why it is more economical to use your phone rather than a laptop. As the screen resolution will determine how much data will be consumed.
Knowing How to Use Microsoft Teams App
What does Teams do?
Within one window, users can call upon a variety of key Office 365 apps and tools to help them work more effectively, such as:
1.Calendars and meetings (Outlook)
2.Create, share, edit and find content (SharePoint, OneDrive and OneNote)
3.Call and meet team members (Skype)
4.Chat and instant messaging (Skype)
Key benefits of Teams
1.One centralised hub
2.Office 365 integration
3.Customise Teams through APIs and bot frameworks
4.Enterprise security & compliance
5.Azure Active Directory integration
6.No extra cost to Office 365 users

Using Teams
Before getting started it's important to understand how Teams fits into the larger Office 365 picture, as creating Teams has some wider implications. Every Team created will automatically create a matching Plan (find out more on this in our Guide to Planner here), SharePoint Team Site, Office 365 Group and shared OneNote. While this brings a number of great benefits, such as shared documents and centralised team information, it can cause some governance and admin headaches. Luckily, the admin side of Teams allows this to be managed as we'll cover below. Read more…
Microsoft Teams Video Training



Set up and customize your team

Collaborate in teams and channels







Manage team schedules with Shifts

Walkie Talkie, Tasks and Praise




---
---